Hey Y'all. What did you do this weekend?
Me? Well I threw a surprise birthday party for Alex's 30th birthday party. (Which reminds me, I need to update our about page…we're not both "20-somethings" any longer. TEHEHEH) I've spent the last few weeks planning and completely unable to share since Alex now reads the blog, but since it's over now I can share all the details and photos with y'all!
Alex works Saturdays, so Saturday morning my "lil" brother came over to help me start putting everything together. I made gallons (Ok like 2 gallons) of tea and lemonade and basically prepped the house before we went off to buy the decorations. My dad then came over later that afternoon to help set up the chairs and the tiki torches and the most important thing.
The trash can keg! With two choices of beer even. We like to be classy like that.
(I'm just keeping it real y'all.)
Guests started arriving at 4:30 and before you knew it, the Birthday Boy had arrived. Evidently as he pulled in he went "Oh Lord what has she done now." I have no idea what he was talking about. Just a few friends, decorations, food, and cake oh and surprise you had no idea. We (ok I) made him take over his precious grill because he's pretty much the only one who knows how to operate charcoal well and the partying commenced.
We had burgers and brats.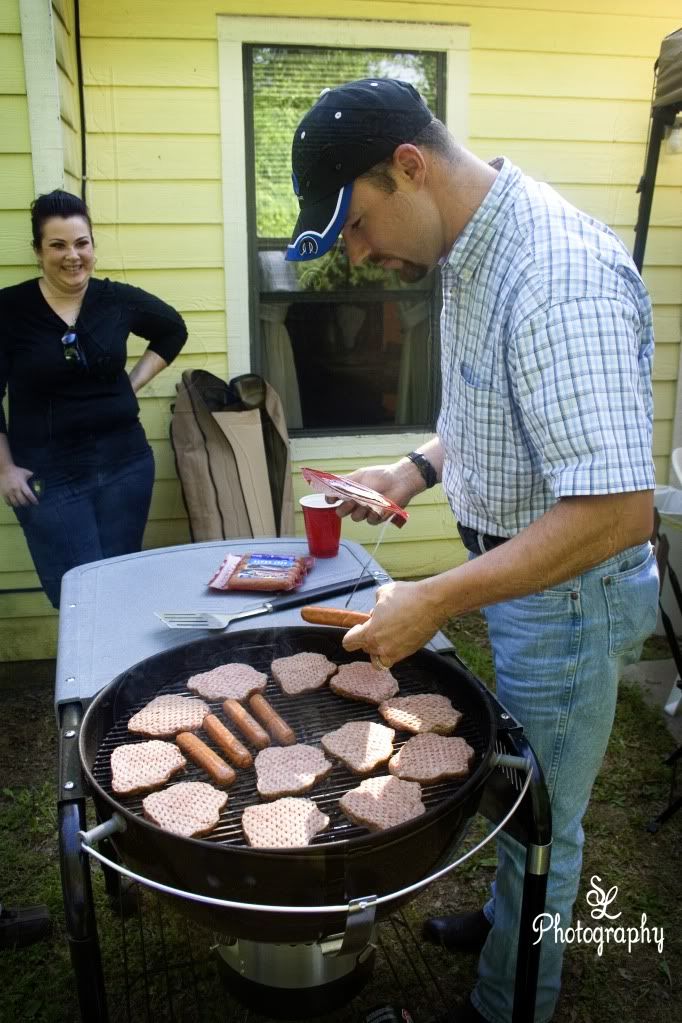 Beer.
More beer.
And then cake. And singing. Which we were fortunate (or unfortunate) enough to get on video.  Pay no mind to the sarcastic remarks exchanged between husband and wife about his impending demise and my location of our life insurance policy. We love each other. Really!
So now that it's all out in the open, HAPPY BIRTHDAY REDNECK! (About page updated.
!)